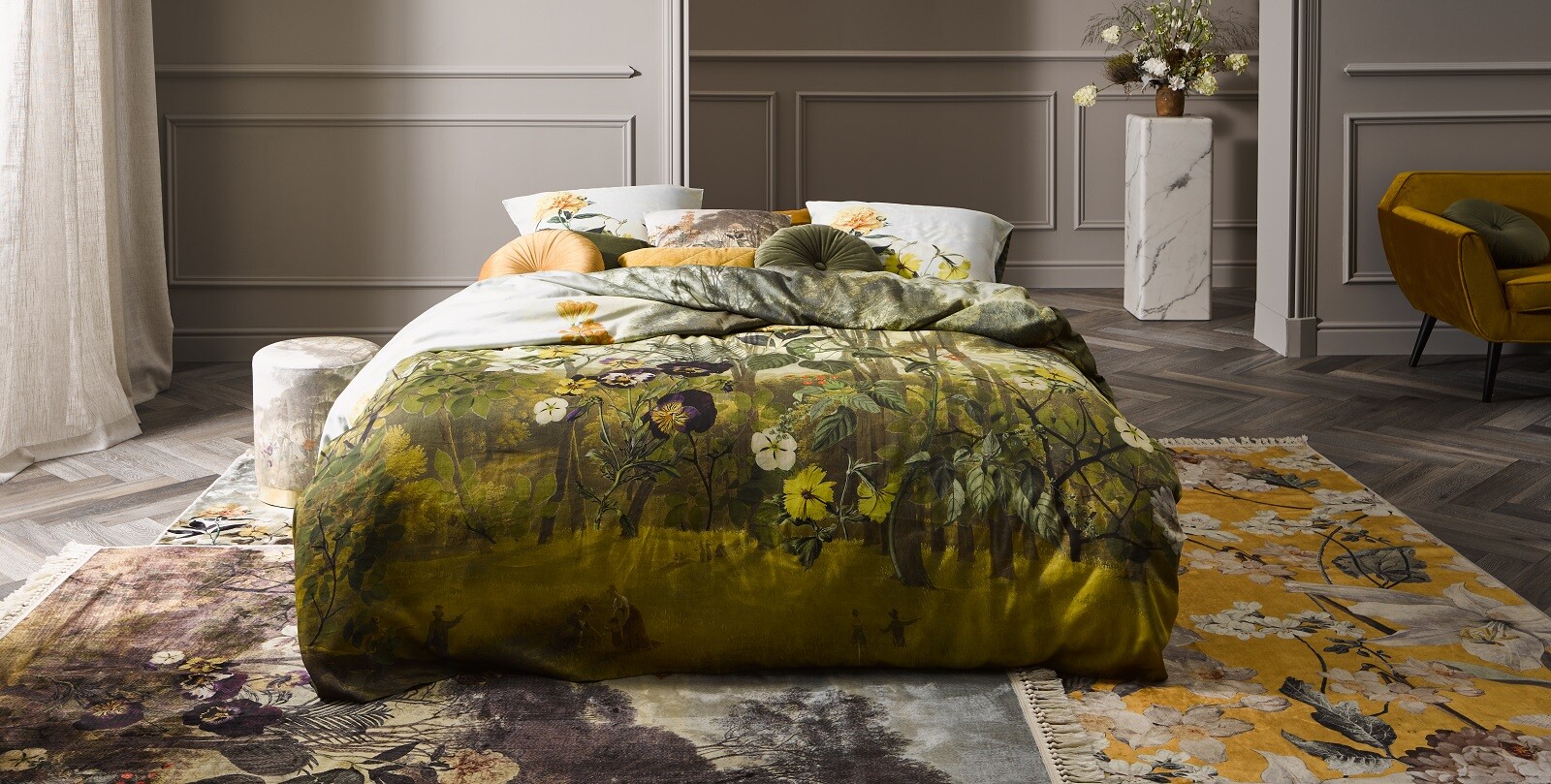 At ESSENZA HOME we want everyone to get a great night's sleep. Not just you, with the help of our wonderfully soft bedding and beautiful pajamas, but also the people who work in our production chain. Great sleep is only possible if if we produce in a sustainable way with consideration for people and the environment. Our collections are becoming more sustainable every year. We have an extensive collection of duvet covers, towels and table and kitchen textiles made from 100% GOTS-certified organic cotton. Discover our sustainable design below!
Cheerful and sustainable bed linen from COVERS & CO
With our silky smooth, 100% GOTS-certified organic cotton bedding, you can make a positive change for the environment, from the comfort of your own bed. All of our products are fairly made, organic and friendly to the skin. Now that's what we call sustainable sleep!

Our creations do not only positively impact the earth – but you as well. Everything we make is designed for your snuggling comfort (think body-hugging fabrics!) and will add a sparkle of joy to your sleeping routine. Our signature prints are fun, playful, and guaranteed to put a smile on your face, whether you are 2 or 102 years old. Fun bedding with a serious cause.
Sustainable duvet covers from ESSENZA
The sustainable duvet covers from ESSENZA are made from 100% GOTS certified organic cotton satin. This guarantees that the cotton is organically grown and that the duvet cover has been produced in an environmentally friendly and socially responsible manner. The extra high quality of the cotton satin (300 TC) ensures even more shine, softness and suppleness. Comfortable and sustainable it is!
Organic cotton towelling
Almost all ESSENZA towelling collections are made from GOTS certified organic cotton. Gentle on the skin and gentle to the world! Discover all collections and pick your favorite: plain, a beautiful floral print or a subtle jacquard woven design!
Sustainable table and kitchen textiles
The Scandinavian roots of the MARC O'POLO brand and the love for natural materials come together beautifully in this kitchen and table textile collection. Made from sustainable materials such as 100% organic GOTS certified cotton and high-quality linen. Passionately crafted and designed to last.
Sustainable packaging
Not only our collections are becoming more and more sustainable, but also our packaging. One of our CSR goals is to make all our packaging PVC-free by mid-2021. We are well on our way to achieving this goal as the packaging for our current collection is already PVC-free for 63%. We now use bags of the same fabric as the duvet cover itself, which can be reused at home, or wrappers made from FSC-certified paper.

Our sustainability journey
We'd love to take you on our sustainability journey. Travel along with our colleague Mariska Leenders to the beautiful country of Pakistan to look inside one of our production facilities and to find out more about our vision on sustainability.


Want to know more?
We are constantly working to make our organization - and in particular our development and production process - more sustainable and to take our social responsibility across all links in the chain. Do you want to know how we do that and what ou CSR goals are? We are happy to tell you more.