We want everyone to get a great night's sleep

At ESSENZA HOME we want everyone to get a great night's sleep. Not just you, with the help of our wonderfully soft bedding and beautiful pajamas, but also the people who work in our production chain. Great sleep is only possible if if we produce in a sustainable way with consideration for people and the environment. We therefore work hard to create a fair and sustainable future.
We are constantly working to make our organization - and in particular our development and production process - more sustainable and to take our social responsibility across all links in the chain. Sustainability must become a core concept throughout our entire production chain. That is a long process, but we are moving in the right direction. Towards a sustainable future!
Read our CSR annual report for more information.


---
Joining forces in a Convenant
To further sustain the entire textile industry we will need to join forces and efforts with other companies and institutions. ESSENZA HOME has therefore signed the Dutch Agreement on Sustainable Garment and Textile on July 4, 2016. This covenant brings us together with more than 70 partners, making it easier to tackle the problems in the textile industry. The covenant includes the Dutch government, unions, industry partners and social organisations such as Unicef and Solidaridad.

The Agreement on Sustainable Garment and Textile focuses on nine areas, these include child labour, low wages, discrimination and environmental pollution. Therefore we will actively be looking for any abuse in these areas by our suppliers and take measures to remedy or correct the wrongs wherever possible. Also through the local partners of the Dutch trade unions and civil society organisations we work to analyse and resolve problems where we can.
Go transparant!

In February 2021 we have signed the Transparency Pledge, together with colleague brands and retailers.
We have chosen to be transparent in where we source for multiple reasons:
we want to take responsibility for our suppliers and its workers

it offers us an extra set of eyes in our supply chain that help us in identifying potential risks

allows us to collaborate more easily with brands/retailers whom source at the same location.
Together we can increase leverage while working on remediation.
Our sources can be found on the Open Apparel Registry website and soon to be published here. We hope more brands and retailers will join us in the journey to make the textile industry more transparent.
---
Textiles that make you feel good

At ESSENZA HOME our products are made for your comfort. We therefore believe it is especially important that our products feel soft against the skin and are free of harmful substances. All our fabrics are Oeko-Tex certified or meet the REACH (Registration, Evaluation and Authorisation of Chemicals) requirements. The Oeko-Tex and REACH systems ensure that the tested and certified textiles are free from harmful substances that pose a risk to health. This makes the fabrics much nicer for everyone.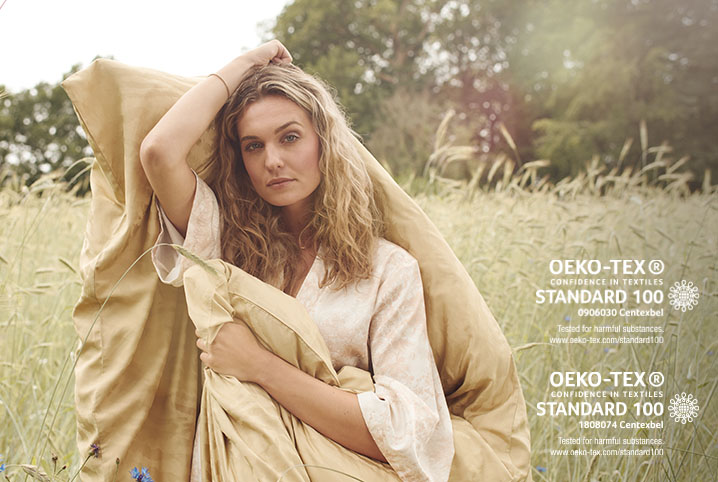 ---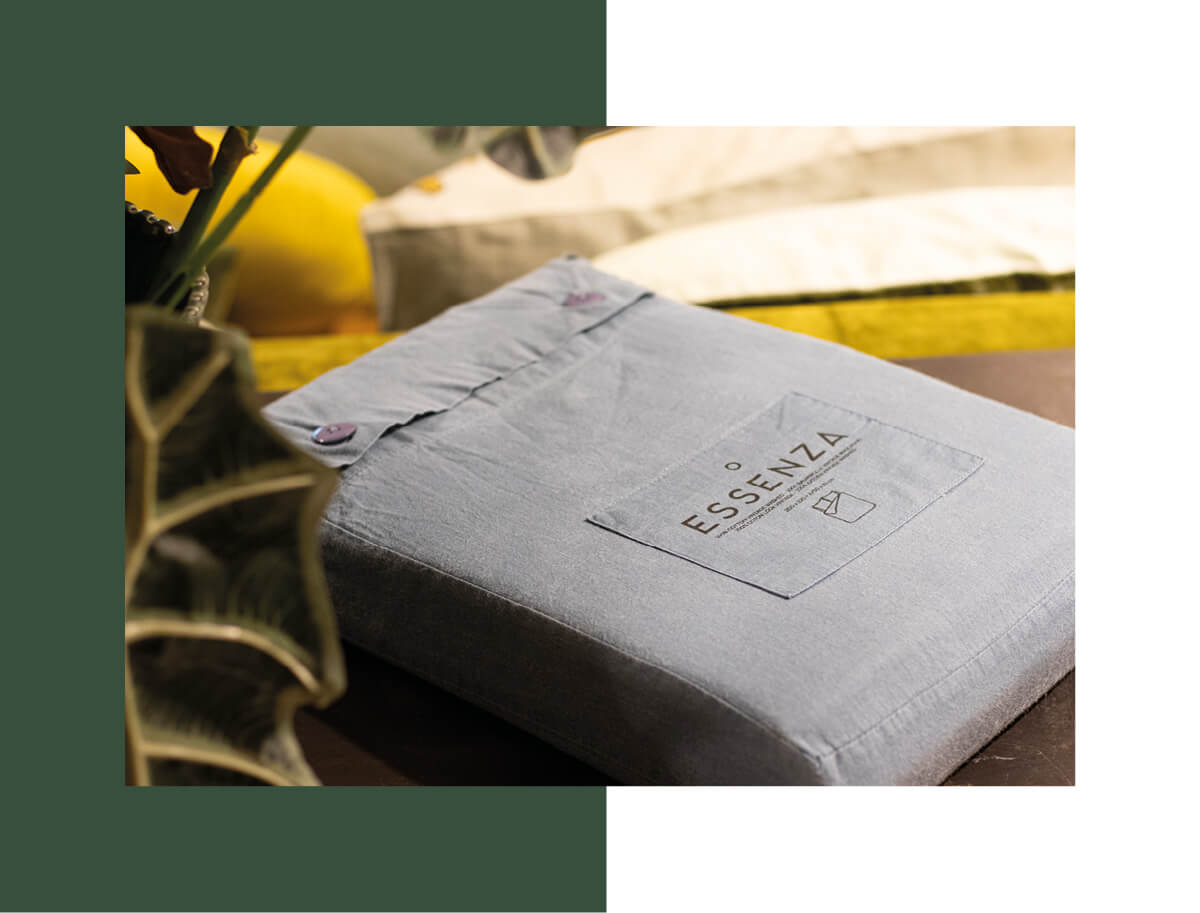 Sustainable packaging

One of our CSR goals is to make all our packaging PVC-free by mid-2021. We are well on our way to achieving this goal as the packaging for our current collection is already PVC-free for 63%. We now use bags of the same fabric as the duvet cover itself, which can be reused at home, or wrappers made from FSC-certified paper. If necessary, we cover these items with a recyclable plastic bag to prevent them from being damaged in the warehouse or during transport. Damage would mean that we have to repack it using extra packaging material. Our articles cover quite a distance in transport and warehouses before they reach you, therefore they need some extra protection.
What have we achieved already?
In July 2016, our CEO Roeland Smits signed the 5-year IMVO Covenant for sustainable clothing and textiles. Through this covenant, a collaboration of over 90 brands and retailers, the Dutch government, trade unions, industry associations and civil society organisations, we have made great strides in the field of sustainability.

In our annual CSR report, we would like to tell you more about what we have achieved and how we did it. Below you can find the 8 most important results of the past years:

1) Made our supply chain transparent, right down to the weaving mills.
2) Signed the Transparency Pledge and made production locations public .
3) Participation in the Amplify project where we work together with our Turkish supplier on freedom of association.
4) A 10% increase in sustainable materials within our 2020 collections as well as the introduction of recycled materials.
5) A 10% reduction in CO2 emissions in 2020 on the transport of our goods from the factories to our warehouse in Borken.
6) The rebranding of COVERS & CO to a more sustainable brand.
7) The reduction of water and chemical consumption by increasing the share of digitally printed designs in our collections.
8) Switching to PVC-free packaging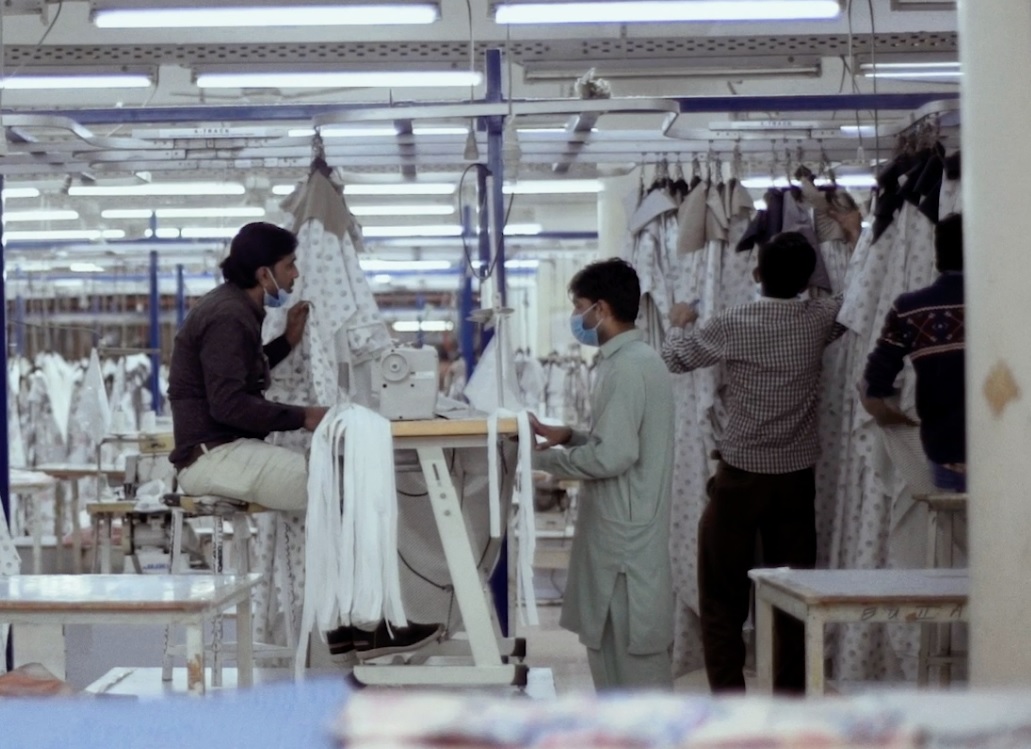 COVERS & CO goes green!

In 2020 we've rebranded our brand COVERS & CO. Since 202 it's more sustainable in production, material and packaging. We use 3 more sustainable fabric qualities within the collection:

- 100% Organic GOTS-certified cotton. Meaning that the cotton is grown without chemical pesticides and that the production is done in an environmentally and socially responsible way.
- A fabric made with 60% post-consumer recycled material consisting of 45% recycled cotton (from t-shirts), 40% virgin cotton and 15% recycled polyester (from PET bottles).
- A fabric made from 35% pre-consumer recycled cotton mixed with 65% virgin cotton to make the fabric strong enough to last for a long time.

Fine, soft and durable bedding that makes you feel good. That's going to be a good night of sleep!

Yearly, 1% of the turnover of COVERS & CO is donated to projects that are close to our heart, both within the field of environment as well as social working conditions. In 2021 these projects were: Project Plastic Soup of the WWF and the Dar-Ul-Sukun Foundation in Pakistan. In 2022, we will be adding Plan International to the list.
Our sustainability journey

We'd love to take you on our sustainability journey. Travel along with our colleague Mariska Leenders to the beautiful country of Pakistan to look inside one of our production facilities and to find out more about our vision on sustainability.
Good relationships with suppliers

We want everyone who comes into contact with our products to have a good feeling about them; from the staff at the factory to the person who will eventually use them. Therefore, we have been working for many years with a number of regular production partners abroad. We visit them regularly to further build this relationship and in order to ensure that the working and environmental conditions meet and continue to meet our requirements. All our partners are also affiliated to BSCI and have a SA8000 certification or are working towards this.

In order to monitor our suppliers properly, we have also become a member of Amfori BSCI since 2019. This gives us a deeper and better insight into the production chain and enables us to act more effectively on any bottlenecks at our suppliers.