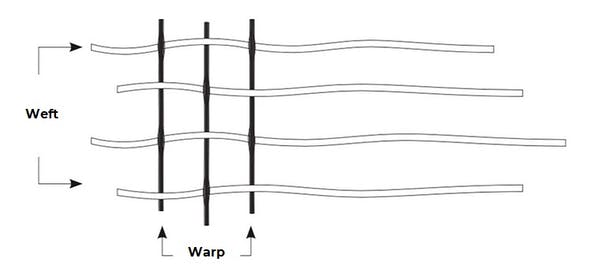 The Warp and the Weft
Duvet covers are made of woven fabrics (usually cotton). In weaving, two different sets of yarn or threads are crossed. The vertical thread is the 'warp' and the horizontal thread that is woven through it is the 'weft' (see the image). The way in which the threads cross each other determines the weave and thus the quality of the fabric.
What Does the Thread Count Mean?
The English term 'thread count' means how many threads are in an inch². The number of threads in the warp and the weft are then added together and this total is called the thread count (TC). The higher the thread count, the softer the fabric. And believe us, a duvet cover with a high thread count is very comfy! Below is a selection from our range of high quality 300 TC duvet covers:


Premium fitted sheets (300TC)
Our Minte fitted sheets are made from cotton satin with 300 TC. This means that these sheets stay beautiful for a long time, have a wonderful shine and are extra soft. Discover all the beautiful colours now!